For such a small place, Hastings Old Town has pubs that match the quality, history and conviviality of anywhere in the country.  You will probably be aware that Hastings played an important part in history, indeed, it has a very interesting history going back well before 1066, and it continued to grow in importance when becoming one of the Cinque Ports under a Royal Charter of 1155.  You can read more about the history elsewhere, eg, online go to wikipedia or Hastings own tourist website. 
Although tourism is now a significant local industry in Hastings, the beach launched fishing fleet is still Europe's largest fleet of the type, and has been based on the same beach, below the cliffs in Hastings, for over 400 years.  On the beach opposite the first establishment on my list are the net huts, wooden constructions which are weather-boarded and tarred, originally used to dry nets but now used for storing them.  About forty-five of these tall structures still survive and are a well-known landmark to locals and visitors alike. 
Before and/or after visiting these pubs, there is a plethora of winding alleyways and lanes above both sides of the old town, to wander up and along, and back down again.  Historic churches to visit, St Clements to the west of The Bourne (the Bourne Stream was built over in Victorian times, presumably became a sewer) and All Saints to the east, local museums, shops, freshly caught fish to be purchased directly from small stalls and huts behind the net huts, and a new art gallery is being built, as I write, down at the seafront by the net huts, though not welcomed by all locals.
So, to my first port of call, the Dolphin Inn, 11-12 Rock-a-Nore Road, TN34 3DW (01424 431197); opening hours are from 11.00am every day, until 11.00pm, except Saturdays, when it is open until midnight, though you may not get served that late, so don't get there in a rush.  I have always received a very friendly welcome from the bar staff and, as is my way, I soon find myself chatting to locals, who were suspicious of my note taking on my first visit until, just before I left, I told them why I was here and the purpose of my notes.  I have found this public house to be a gem, and a fine place to start your Hastings tour or holiday.
There is outside seating at the front of the Dolphin, where you can while away the time, drinking good beer, eating good food, and watching the world go by. As soon as you enter the pub, it exudes an atmosphere of fishing and boats, which is not surprising when considering the location.
I imagine this used to have at least 2 rooms, but an archway only now separates the different aspects of the bar. The Dolphin is carpeted throughout, with a U-shaped bar. To the left, as you come in, a Fishing net hangs from the ceiling and photographs and fishing/boat memorabilia adorn the walls and any available surface. Photographs include images of Hastings, this pub, fishermen, boats, the net huts, memorabilia includes models of boats, rope knots, baskets, oars and more netting. The room to the right has a wood burning stove and, to keep up with the times, a large flat television screen. There is upholstered seating, upholstered bar stools, wooden chairs, wooden tables, the décor matches what you would expect.
There are the usual keg beers and lagers available, and 5 or 6 real ales are served from hand pumps on the bar, 6 in spring/summer. They have 3 regular beers, Courage Directors, Harveys Sussex Best Bitter and Dark Star Hophead, a particular favourite of mine, which I have always found to be excellent and in great condition. They have a semi-regular guest or two, one that they get a significant supply of, eg Harveys Porter in the spring, Dark Star American Pale Ale (an excellent strong and dry pale bitter that uses Cascade and Centeniel hops) that was on during the summer, and Harveys Sussex Old Ale (aka XXXX) (a 4.3% a very dark winter ale with more than just a hint of roasted malt) coming on for the autumn and winter months, and 1 or 2 guest ales that change more regularly, eg recently, Hepworth Classic Old Ale (an excellent dark winter ale) and Harveys Bonfire Boy (a worryingly easy to drink 5.8%), previously, Oakham Bishops Farewell and Butcombe Gold, examples of a fine range of ales that all sell at £3.20 a pint.
In addition, the food here is quite renowned, particularly the fish dishes, indeed, I have only seen very complimentary reports, and I have enjoyed eating the locally caught 'huss' and chips myself, bringing back memories of my childhood, when I remember it as 'rock salmon'.  Food is served lunchtimes between 12 and 3pm, plus on Monday evenings 6-9pm (which is a 'Fish and Chip' night, when you also get a pint of beer or glass of wine included for your £7.95), Tuesday, Saturday and Sunday from 12-5.30pm, and on Fridays between 12 and 9pm. The menu includes the sort of fare you would expect, eg sandwiches and baguettes, pie and mash, liver and bacon, burgers, but also a good range of fish dishes, eg white bait and fish cakes, in addition to the excellent fish and chips. There is also a children's menu.
In the evenings there are special events, eg music on Fridays and Saturdays, a 'Jamming' night on Tuesdays, a quiz on Thursdays, and Wednesdays see a number of local social groups meeting up. This is a quite dynamic local establishment and I highly recommend you visit.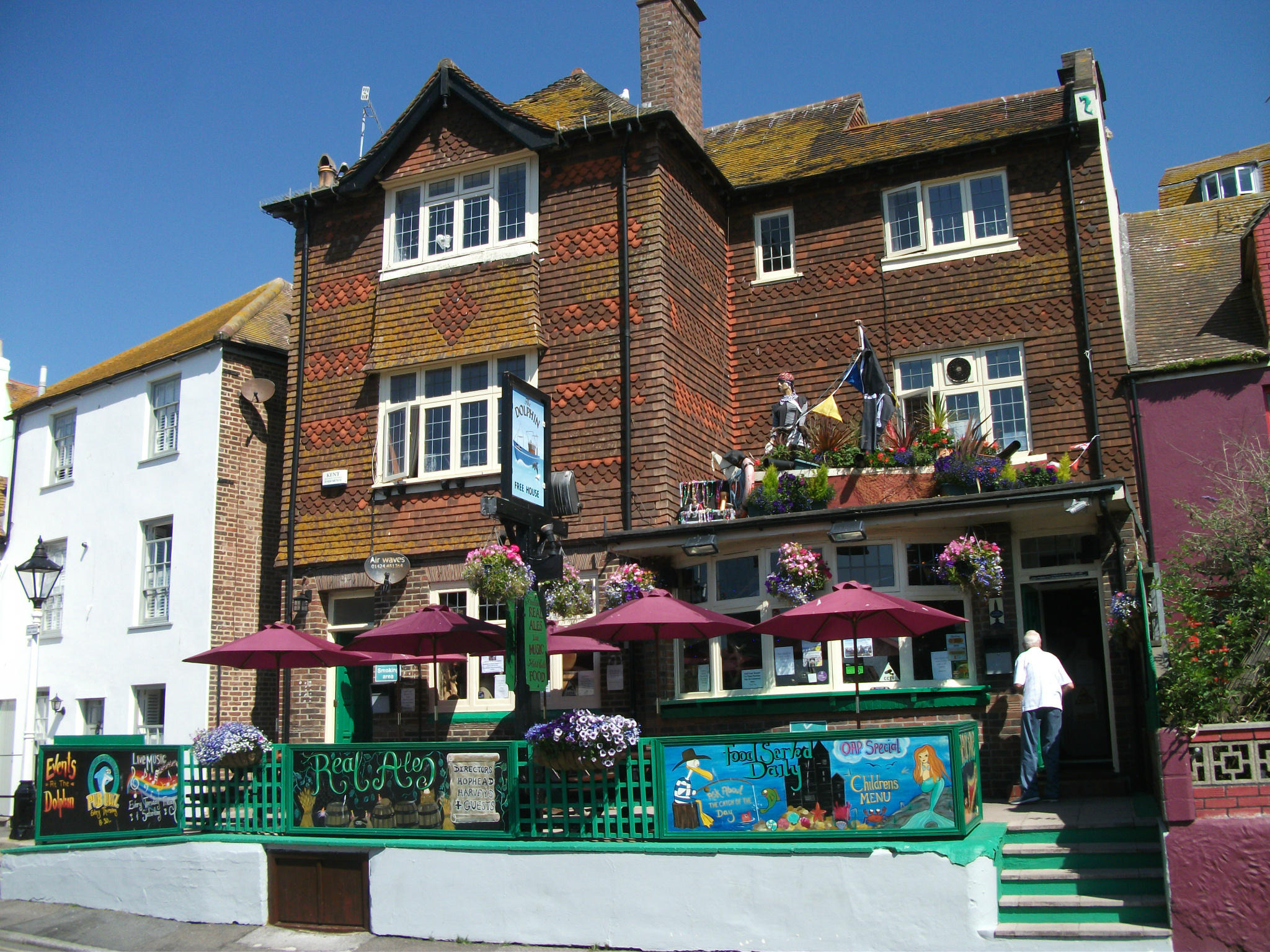 All Saints Church                                                                    The Dolphin Inn                                               Cinque Ports Arms 
If you come out of the Dolphin and turn right, along a bit and then turn right again, up All Saints Street, on the left you come upon the Cinque Ports Arms, 105, All Saints Street TN34 3BE (01424 444758), a wonderful old public house, with a great exterior and dark and atmospheric interior, with dark oak beams, and furniture to match the feel of the place, upholstered chairs, wooden tables etc, and an outside area with seating and tables at the back.  The Cinque Ports does not open lunchtimes on weekdays, when it opens at 5pm, however, as the spring and summer progresses, the opening times become more flexible, so it is worth a visit, for example, at lunctimes on bank holidays and as the temperature increases.  It does open all day on Saturdays and Sundays. 
At present there is no regular cooked food available, although there are plans for a restaurant area upstairs, an area that can be used for private functions and celebrations.  There are 2 ales on handpump, the ubiquitous Harveys Sussex Best and Fullers ESB (dangerous to drink at lunch times!) and the usual keg beers and lagers and Guinness.  On my last visit to the Cinque Ports, they were selling good sized filled rolls for £2.00 a go, with a variety of fillings, and I enjoyed a cheese and red onion/tomato roll with potato crisps.  The barstaff are very friendly, and I have always found the regulars and, often, visitors (tourists, so every right to be enjoying themselves) to be ready for amiable discourse.  There is a flat screen tv in the bar, with rugby and football regularly on show, providing they're on terrestrial tv, which means that, despite the 'quaint' old atmosphere, we are still in the 21st century! 
If you carry on up, at the top of the street, and, literally, up on the right, is the Stag Inn, 14 All Saints Street, TN34 3BJ (01424 425734); open 12-midnight (11pm on Sundays). This is reported by some to be the oldest public house in Hastings, though there are many claims and angry counter-claims to that honour in Hastings, apparently dating, in its present format, from 1547. There are original oak beams and inglenook fireplaces, with wooden flooring throughout. There was certainly a friendly atmosphere when I last visited this pub, I'm not sure if that is because I am particularly interesting to talk to, or because not a lot goes on for some Hastings folk!
From the front door, you enter a large main bar area with wooden chairs and tables and upholstered benches. There is a smaller second room further back, which seats up to 30 people, that is regularly used as a restaurant area, although food is served throughout the pub. Outside is a three-tier garden and patio area to enjoy in warm weather.  This is a Shepherd Neame establishment with 6 handpumps, regularly serving Kent's Best, Spitfire and Bishops Finger and a cider, recently, Thatchers Heritage. They also serve guest/seasonal beers, some have been from the micro plant which was set up by Shepherd Neame in 2007 to brew speciality ales.  A while ago, I tried the Shepherd Neame Amber Ale (a winter warmer), which was pleasant and quite different to their usual beers, "Spooks Ale" has been on more recently for Halloween, and Late Red is coming on for the later Autumn.
Food is served from 12pm to 3pm and 6pm to 9pm Monday to Wednesday and Fridays and Saturdays, and 12pm to 5pm on Sundays, and I was strongly recommended the Sunday dinner. Food is 'home-cooked' and all fish and game is locally sourced. For evening entertainment a quiz is held on Monday nights, live folk music every Tuesday, and 'Blue Grass' music on Wednesdays. They also use the smaller 'restaurant' room to cater for private functions.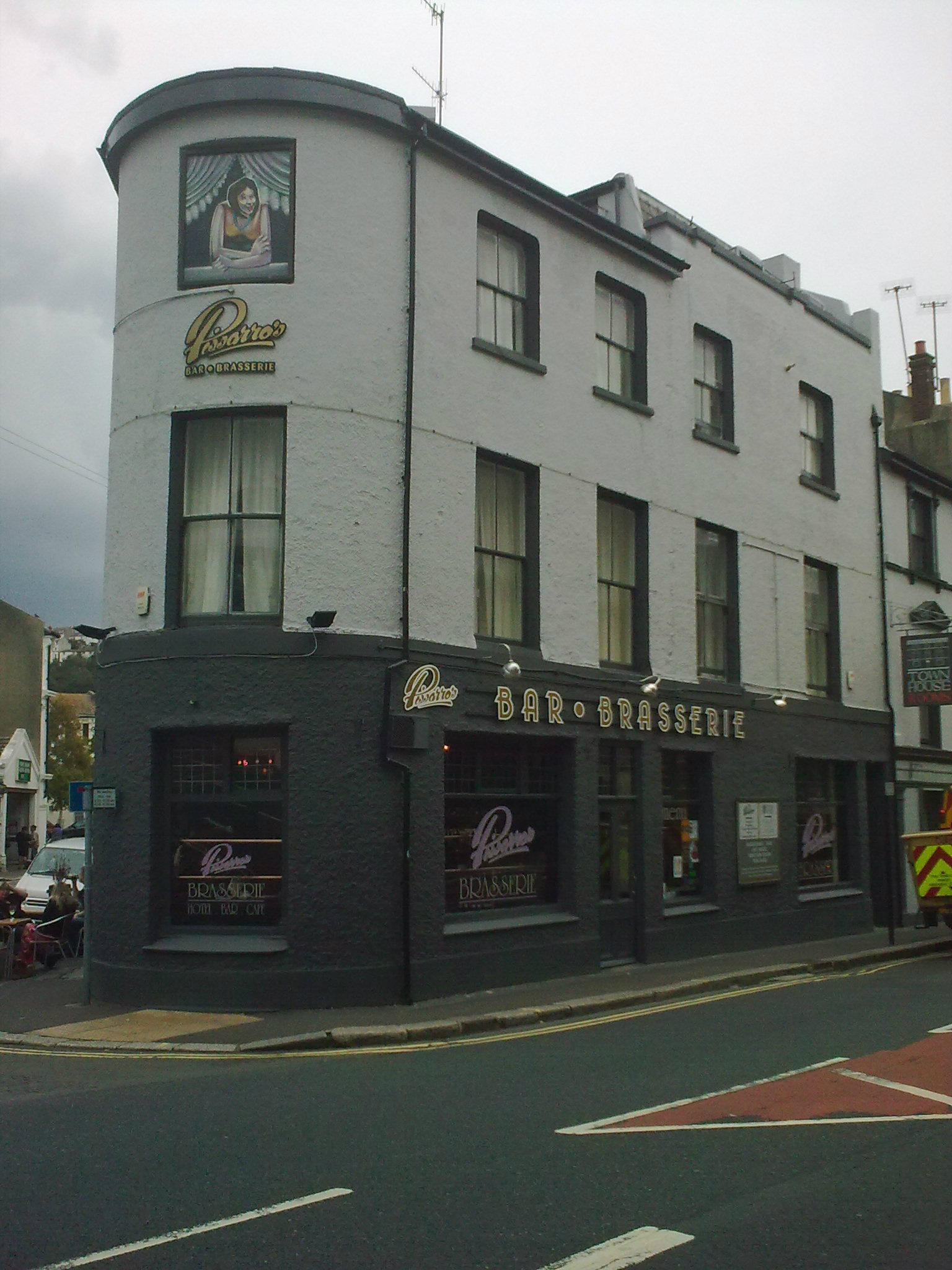 Stag Inn                                                                       First In Last Out                                                     Pissarros     
My fourth choice is the First In Last Out, 14-15 High Street, TN34 3EY (01424 425079); open 12-11pm Monday-Thursday, 12-midnight on Fridays and 11-midnight on Saturdays.  This was Hastings only brew-pub until very recently, but the FILO brewery has moved a couple of minutes walk up the road to larger premises to meet demand and to help enable a slight redesign of the bar and kitchen areas. To reach the First In Last Out (FILO) from the Stag, you need to follow alleyways and side turnings to cross the A259, The Bourne, or just go back down to the front, turn right and right again, missing The Bourne, and walk up High Street, the First In Last Out is up on the right.
The FILO is a warm, comfortable, two-roomed public house, with a unique raised octagonal-shaped open fireplace in the centre of the main bar area. Further back there is a bright modern conservatory, which can be used for private functions. The floor of the main bar is fully carpeted, there are upholstered benches and bar stools, wooden chairs and tables, and interesting ornaments, statues and photographs.
The building dates back to the sixteenth century, and has been used as an ale house since at least the nineteenth century, now selling excellent FILO brews. There are 4 hand pumps, usually with at least 3 of their own beers on sale, eg Crofters (a very good session bitter, 3.8%), Gold (a Pale stronger ale, 4.8%) and Ginger Tom (tasting of ginger, it does what it says on the label, 4.5%), and either another of their beers or a guest, eg Everards Tiger Best Bitter or Adnams Bitter have been on sale recently.
Food is served 12-2.30pm, Monday to Saturday, and on Monday evenings there is Spanish Tapas for sale from 6pm. There is a regular menu, including their trademark hash with a fried egg and beans, Welsh Rarebit/Rabbit and a side salad, and deep fried fish goujons in a beer batter made with their own beer and salad. There are also daily additions on a blackboard, eg lamb curry, sirloin steak in ciabatta, and fish pie. My brother loves the hash, and I have had my favourite sausage and mash meal of all time here, which included venison sausages, mashed potatoes and mashed swede, roast parsnips and broccoli, lovely. 2 or 3 times in a month there are live music nights, visit the FILO website for more information, and on the first Sunday in a month, there is a quiz, set by the landlord, a man with a great sense of humour, so an interesting event.  This is another great pub for you to visit in Hastings. 
Now, if you haven't already done so, I'd suggest investigating those alleyways and/or searching the stalls behind the net huts for freshly caught bargains to eat and to fill your freezer.
            Tin Tins                                       Côte-d'Azur?                                                   The White Rock Hotel  
However, do you fancy something a bit different from cute old cottages and passageways and centuries old pubs and churches?  Well, if you want to move away from the old town, there is still plenty of Hastings to investigate.  In the centre of town, behind the Priory Meadow shopping arcade, is Pissarros, 9-10 South Terrace TN34 1SA (01424 421363), a continental style bar that offers good food, regular live music, and real ales (Harveys Sussex Best and Dark Star Hophead on my last visit, though the Hophead is soon to change, probably, for a darker 'winter' beer) in addition to wine, and the usual keg beers, spirits etc.  The atmosphere here has always felt friendly, with a separate restaurant area, which I presume can be booked, or you may eat your food at one of the many tables in the bar.   
Also, in the centre of town, if you fancy going continental again, is the Belgian influenced Tin Tins, 21 Robertson St, TN34 1HL (01424 717 629).  Ironically, as this is a European style bar, it is positioned in the America Ground, an area that, due to the dramatic storms of 1287, changed from a harbour into a piece of unclaimed territory which followed the resulting huge deposit of silt and pebbles.  Being outside the control of Hastings Borough meant people could live here with no taxes and free from rent.  By 1822 about a thousand people lived here and, with Hastings Borough looking to gain control, the locals declared independence as the 24th US state and raised the USA flag!  It took 5 years before the British legal authorities gained control, on 6 December 1827 a ruling was made that the America Ground should be seized on behalf of King George IV, and the revolutionary resident population was cleared by 1834.
So, this former revolutionary area is the where Tin Tins is situated.  I first noticed the name and Belgian tricolor as I was strolling past, immediately bringing to mind when my brother had interviewed, in French, the Flemish theatre group who produced a musical version of Herge's Adventures of Tintin whilst he was living in Brussels.  Sadly, no draught Belgian beers are available, though they do sell continental lagers, however, there is a good selection of Belgian bottled beers for £3.50 a bottle, which is a fair price these days, and moules frites, which is Belgian, and other freshly prepared food, is available.  Also, Tin Tins sells the best value tea and coffee in Hastings, at only £1 for a coffee and 90p for tea and fruit teas. 
The first time I visited the following establishment, my brother and I were walking in from the West, and we saw these 16 or so properties that could have been on the Côte-d'Azur overlooking the sea, sufficiently interesting for us to comment on the fact.  Another 5-10 minutes on we reached The White Rock Hotel, White Rock TN34 1JU (01424 422240), open from 07.00 for breakfast and coffees, etc., from 10.00 to sell alcohol, closes at 11pm to non-residents, usually the bar remains available until at least 12 midnight for residents.  This is a comfortable and, dare I say it, more 'posh' place to visit, though, surprisingly, the bar prices for visitors are not expensive at all, usually £3 a pint for real ales, unless 6%+ (£3.20 a pint paid recently for Dark Star Victorian Ruby Mild, an excellent beer), so very good value for the area and quality!  You can sit outside looking at the sea and damaged pier (burnt out twice in 2010 by a couple of ne'er do well arsonists), though there is a road between you and the beach, which can get very busy, or, should you not wish to breath in too much carbon monoxide, you may stay inside to enjoy you drinks.  The White Rock sells 4 real ales on handpump, usually all from local or close by breweries, eg Dark Star Festival (5% bronze coloured favoursome ale) and Hophead (3.8% pale, dry and hoppy - Cascade hops), Weltons Old Harry (5.2% superb golden bronze colour, pleasantly fruity, but dry and bitter aftertaste too) and Horsham Bitter (3.8%), Franklins Bitter (3.8% golden ale), Rother Valley Golden Valley (wheat beer, 4.2%), 1648 Signature (namely, the signature of Oliver Cromwell, 4.4% pale dry bitter) and Beehead, and Harveys Olympia (4.3% golden ale) and Sussex Best (4% middle of the road bitter), or you may want a coffee or tea and scones, up to you to enjoy. 
Oh, why did I mention the Côte-d'Azur?  A little more to this anecdote... On approaching the bar, the barmaid appeared to me to be Polish, so, in my best pidgeon-Polish I said 'thank you' but with no response.  You've guessed it, she is actually French, a student at the local college.  My brother started chatting away to her in French before we took our drinks outside to enjoy the evening and the relatively quiet road in front of us, and, of course, she is not only French but comes from the Côte-d'Azur.  Not the most exciting anecdote, but it seemed to us at the time quite a coincidence that less than 15 minutes ago we had been talking about the Côte-d'Azur.
So, where to go from here?  You could carry on walking for another 5 minutes or so from the White Rock and reach St Leonards, from the front it's a bit of a climb, but there are 2 real ale oases above Hastings (Warrior Square) railway station.