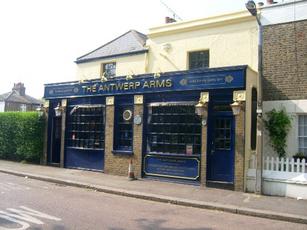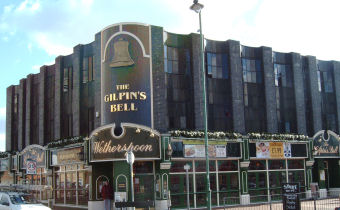 The Antwerp Arms                                                   The Gilpin's Bell                                                      The Pembury Tavern  
Tottenham isn't the most real ale 'friendly' area to drink in, it has been a long time since I've visited the area, but confirmation from friends, and a chat with a local brewer, would suggest it is best to drink elsewhere first, and catch the tube (Victoria Line).  Consequently, it may be worth drinking at pubs in the Euston or Kings Cross/St Pancras area before and/or after football matches at Spurs.  However, I have found 2 places that may just fit the occasion, remember, though, these are likely to be very busy on match days.
The first is The Antwerp Arms, 168-170 Church Road, N17 8AS (020 8880 9495), a straightforward pub that sells Fuller's London Pride, regularly reported to be kept in very good condition, and lots of keg beer.  There is a warm enough welcome to away fans, but, on match days, you are likely to be met at the door by door persons, bouncers, people technicians, whatever they are now called.  Unless you are already well-oiled, or rowdy, or just downright obnoxious, there shouldn't be any problem getting in. 
The second place, also a short distance away from White Hart Lane, is a Weatherspoons, not a surprise there, The Gilpin's Bell, 50-54 Fore Street, N18 2SS (020 8884 2744), a former very large motorcycle shop.  It is a Weatherspoons, so lots of good value ales and other drinks and the usual food menu.  
Another option comes from www.footballgroundguide.com that suggests visiting fans catch the train from Liverpool Street and stop off at Hackney Downs to visit The Pembury Tavern, 90 Amhurst Road E8 1JH (020 8986 8597). The Tavern serves a range of real ales, up to 16 at any time, and is reported to sell good food too. From there it is 10 minutes on the train to White Hart Lane, the pub being only a couple of hundred yards from Hackney Downs station.