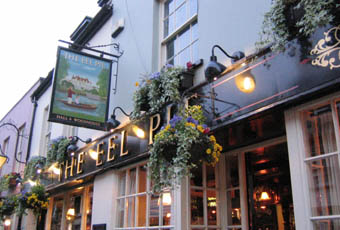 The Cabbage Patch                                                      The Eel Pie                                                           Barmy Arms  
Thanks to my brother, Dan, for his advice regarding Twickenham, as he has recommended 3 pubs in the vicinity, though you could visit Richmond, in preference, if going to the rugby, as pubs there won't be quite as busy as Twickenham on match day.
The first is the Cabbage Patch, 67 London Road, TW1 3SZ (020 8892 3874); the Cabbage Patch used to be a freehouse, but is now owned by Fullers, so you know what sort of beers and food you can purchase there now without needing to check up first.  It has been a popular local in Twickenham for many years, so will be interesting to see how Fullers get on with it.
The second recommendation is The Eel Pie, 9 Church Street, TW1 3NJ (0208 891 1717).  This is a Hall & Woodhouse, or 'Badger' pub, selling, as you would expect, Tanglefoot, First Gold, and King & Barnes Sussex, plus seasonal guest ales, also a good range of wines.  Because of the beers, I would make this my prime choice for the area, but it also provides a good value and substantial menu of 'home made' food, including regular changing specials.  Particularly recommended to me is their Steak & Tanglefoot Ale Pie.
The Eel Pie, situated in the centre of Twickenham, is a traditional 'olde worlde' pub in a quiet cobbled street close by the River Thames. The Eel Pie doesn't only come alive on match days, though, as it has a strong regular clientele and walkers are common visitors too.  There is a choice of drinking areas, including the provision of plasma screens to watch sport on, and you can sit out the front during the summer, when the road is closed to traffic. 
Finally, is the Barmy Arms, Embankment, TW1 3DU (020 8892 0863), a Taylor Walker pub, so you will be offered a few different ales, usually Young's as a regular, but other, easy to find beers too, eg London pride, Abbot Ale, 6X, the usual.  I have seen mixed reviews about this pub, but my brother liked it on his last visit, so, I'd appreciate further advice, it probably depends on who the latest manager is.   
I would also suggest, if you want to drink a little further away, but be close enough to get to a match (or to watch on tv), try The London Apprentice in Isleworth, which was open early for the Rugby World Cup in New Zealand recently, and selling bacon sandwiches at £2.00 a go.