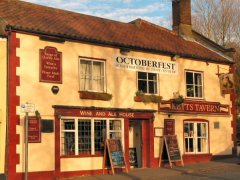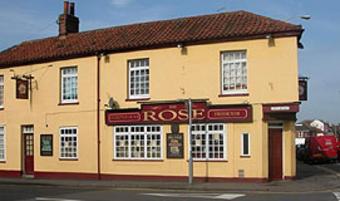 The Fat Cat                                                            Kett's Tavern                                                               The Rose  
I have to start with the award winning Fat Cat, 49 West End Street, NR2 4NA (01603 624 364), a virtual ongoing real ale festival, with up to 30 ales now available at any time, served from handpumps and many on gravity; eg their own ales, including Fat Cat Bitter, and guests such as Oakham Bishops Farwell, Kelham Island Pale Rider, Hop Back Summer Lightning, Fullers ESB etc etc...  It is a bit of a walk from the city centre, but, unless you only have very little time, somewhere you must visit if you like your ale, or cider and perry, which they always sell an interesting election of.  Not a foodie pub, although they do sell filled rolls and pies and other bar snacks.  A well-known near 'legendary' institution that gets visits from all corners of the country, so it could be very busy. 
Nearer to the railway station, and close to the yacht station, is Ketts Tavern, 29, Ketts Hill, NR1 4EX (01603 628520), which sells up to 6 ales at a time.  There is not quite such an extensive range as at the Cat, but still a good place to drink in, and many local ales on sale too, including their own, Norwich Bear Company, see below, and, eg, Wolf Golden Jackal, Woodforde's Wherry, Tipples Redhead and Humpty Dumpty Porter.  You can get food here, and I have seen a review when the customer, on a Saturday lunchtime, had the landlady peel potatoes especially so that he and a friend could have chips with their bacon rolls.  Great service! 
Nearby is The Rose Inn, 235, Queens Rd, NR1 3AE (

01603 767713

), which is run by the same landlady as Ketts, and has its own brewery, The Norwich Bear Company.

 

Reported to be a very friendly pub serving good ales, I would appreciate a review of this pub please.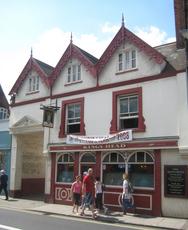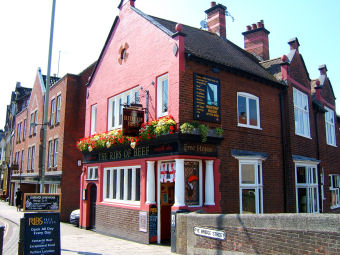 King's Head                                Ribs of Beef                                                  Take 5                                             Alexandra Tavern             
Longer established, is the King's Head, 42 Magdalen Street, NR3 1JE, (01603 620468) which, in the words of the owners, has been around for many hundreds of years!  There are up to fourteen local real ales on tap, including Winter's King's Head Bitter and Tipples Redhead and Elmtree Bitter, both at 4.2%, and up to four more may be available on gravity feed, as well as a good selection of Belgian beers.  There are no keg beers on sale at the King's Head.  There are two bar areas, a convivial atmosphere, and sandwiches and locally sourced pies are available for the hungry.   
Near the cathedral, and by the River Wensum, is the Ribs of Beef, 24 Wensum Street Norwich, NR3 1HY (01603 619517).  A few original walls remain of this 14th Century building, which was badly damaged in the fire of Norwich in 1507, after which it was rebuilt and, by 1743 it was being run as an ale house called the 'Ribs of Beef'.  The building was later altered when the road was widened for a tramway in 1898 and has since been used for various purposes, including an antique shop, an electrical shop and a ladies fashion boutique before it was re-licensed in 1985.   
Ales on sale at the Ribs of Beef may include, for example, Woodforde's Wherry, Elgood's Black Dog, Adnam's Bitter and Courage Best Bitter, and usually local guest ales are available too.  It has a good reputation for 'traditional' food and the interior has a more luxurious feel to most ale pubs, with a thick carpet and leather upholstered seats.  There is a small riverside terrace for sunny days and television screens for those who enjoy watching their sport on TV.  
CAMRA's Good Beer Guide recommends Take 5, 17 Tombland, NR3 1HF (01603 763099), a grade II listed building, with parts dating back to the 17th century, and described as having a continental 'café bar' feel to it, and selling home cooked food.  Up to 4 real ales are served, including Woodforde's Wherry and Norfolk Nog, and 2 guest ales, usually from local brewers, and a real cider and bottled beers are available too.   
My final recommendation is the Alexandra Tavern, 16 Stafford Street, NR2 3BB (01603 627 772), though a longer stay in Norwich could include a much longer list of pubs worth visiting!  The Alex, as it is popularly known locally, is a friendly 19th century corner pub, not too far from the Fat Cat, which sells up to 6 real ales, including, as regulars, the local Chalk Hill Brewery's Tap Bitter, CHB and Gold, and usually other local brewer's ales as guests.  The Alex is also known as a purveyor of 'tasty' home cooked pub food, from 12.00 to 7pm, in a traditional environment, with bare floor boards and a real log fire, and has a pool table in a separate area, and outside seating for those who require it.