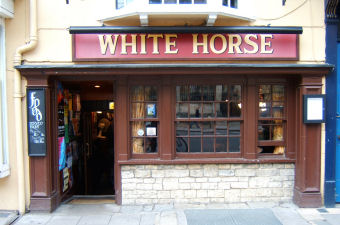 The Kings Arms                                         The Turf Tavern                         The Eagle and Child                                White Horse  
Where do I start with Oxford? Not only have I visited Oxford personally many times, for pleasure and research purposes, but my brother lived there for 5 or 6 years too, so I have written this following consultation with Dan, many thanks bro. I could advise a host of pubs, but am trying to limit this to a manageable number, my favourite pub is not necessarily the one selling the best food or drinks, but they all have a good reason to visit them, after all, this is Oxford.
I'll start with The Kings Arms, 40 Holywell Street, OX1 3SP (01865 242369), a pub that, as a pub, has a history going back to 1607, indeed, it has been a coaching inn, but it was built on a site that had been an Augustan priory, which was built in 1268. By the way, the King in question was James I of England. This is a Young's pub, with 6 handpumps selling the usual Youngs and Wells beers, and guest ales too. The food too is a local variation on the Youngs common menu (served 11.30 to 9pm), decent beer and food then as you would expect. The interior is wood panelled with a number of rooms, nooks and crannies, that make this a comfortable place to find a table at which to chat and find privacy.
I've visited the Kings Arms a fair number of times, but I once visited it soon after most of the cattle in the UK had been burnt to a cinder. Why was this interesting? Because, beef, at that time, was probably as safe as it will ever be to eat in the UK, with diseased and healthy cattle destroyed all over the country. However, I met a professor from Berlin on this particular occasion, and he was amazed I was eating the steak, the rest of Europe thought we still had diseased meat on sale, but I happily tucked away my beef steak, not being a vegetarian at the time, he had a salad. I enjoyed my meal.
Just behind the Kings Arms, nearly hidden away in the back lanes, is The Turf Tavern, 4 Bath Place, OX1 3SU (01865 243 235), now a Green King Pub, a 16th century public house with 4 rooms and a large outside seating area. Up to 11 real ales are available on handpump, including the usual Abbot, IPA and Old Speckled Hen, plus a range of guest ales, and a traditional cider. This is a well known pub, so expect it to be busy, and it serves a good range of food too, eg Rump Rump Steak Ciabatta, Ploughman's, and Sweet Potato, Apricot, Chickpea & Red Pepper Kebabs; example prices £6.75-£8.45.
The Eagle and Child, 49 St Giles, OX1 3LU (01865 302 925) is an old, atmospheric pub, built circa 1650 and a Grade II listed building, with dark wood panelling and a favourite of Tolkien and C.S. Lewis who used to drink here. It is long and narrow with two 'snugs' at the front, a drinking area at the front of the bar and a conservatory at the back. There are four handpumps serving ales such as Old Hooky, Brakspear's Bitter, Lancaster Blonde and a Shepherd Neame Spitfire. Food is served 12-9pm, including Sausage and mash, and this is a bit of a pie shop, though I have read mixed reviews about the quality of the food recently.
The White Horse, 52 Broad St, Oxford, OX1 3BB (01865 204801) is another Grade II listed building and claims to be the smallest pub in Oxford. This is a friendly and welcoming pub selling excellent wine and beer, 6 ales including Shotover, Doombar and Hobgoblin. The food is also very good (served 11.00 to 9pm), including a variety of filled baguettes with salad and chips, Greek Salad, Mussels in White Wine & Garlic Sauce, Beef Steak & Ale Pie and Toad in the Hole; example prices £6.45-9.95.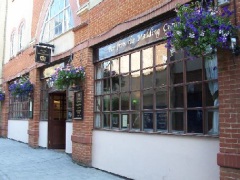 Old Tom                                      The Bear                                         Far From the Madding Crowd                       
Yet another 17th century pub is the Old Tom, 101 St. Aldates, OX1 1BT (01865 243 034), which can be traced back to 1681, when it was known as 'Jacob's Well', finally changing its name to Old Tom in the 19th century, being named after the bell in nearby Christchurch Tom's Tower. Old Tom can get very busy, with a beer garden to take the overspill. This is a Green King pub serving Abbot Ale and IPA, plus a guest ale, eg from Castle Rock Brewery. The menu is mostly very good, and very good value, Thai food, £6.95 for main meals, and they do serve more traditional pub food, eg fish and chips; food is served 12.00 to 10pm.
The Bear, 6 Alfred Street, Oxford, Oxfordshire, OX1 4EH (01865 728 164), a small pub with 2 rooms and low-ceilings is one of many claiming to be the oldest in Oxford; apparently its history can be traced back to 1242. This is a Fullers house with 6 handpumps selling 4 Fullers ales and 2 guest ales, eg Shotover Prospect. Food is served from 11.00 to 9pm. There is also a garden available for those wishing to sit outside the pub.
Finally, Far From the Madding Crowd, 10-12 Friars Entry, OX1 2BY (01865 240900) is a family run 'freehouse'. This is not a contender for olde worlde pub of Oxford, but is a friendly house that sells good beers, Brakspear Bitter and guest ales, wines and ciders. It also sells good food, 12.00 to 8.30pm (12-5 Sundays and Mondays), eg Ciabattas and 3 egg omelettes (with a large variety of fillings available), Lasagna, Sausage and Mash, Steaks; example prices £5.95-8.95.