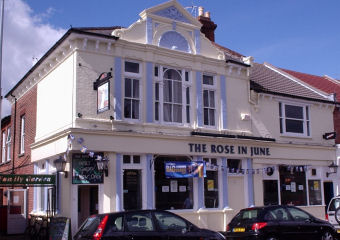 The Artillery Arms                                                   The Rose in June                                                      Sir Loin of Beef 
My thanks must go to a number of Portsmouth and other fans I have received advice from. Another good list of pubs, which could easily be added to, however, why not give these a try, and feel free to contact us if you have any further suggestions please.
First on my list is The Artillery Arms, Hester Rd, PO4 8HB (023 9273 3611), because of its close proximity to Fratton Park. The Artillery sells 6 ales on handpump, including Bowman Swift One and Fullers ESB and 4 guests, usually from local breweries. Filled rolls are sold on matchdays and, on Sundays, the lunch is well known for its excellent value. This is a very friendly house, and well behaved away fans are well received. There is a large walled garden with facilities for children.
Second on my list, about 15-20 minutes walk from the ground, is The Rose in June, 102 Milton Road, PO3 6AR (02392 824191). There are 2 bars, a function room (plus 2 sizes of marquee for hire) and a large garden with an adventure play area for children. Another friendly pub selling 5 real ales from handpump, including Fullers London Pride, Sharp's Doom Bar, Gales HSB, Bowman Swift One and Hop Back Summer Lightning, and 2 guest ales at weekends, plus Cheddar Valley cider. Barbecues are held on summer weekends.
Next, about 10 minutes away from Fratton Park, is the tasty sounding Sir Loin of Beef, 152 Highland Rd, PO4 9NH (02392820115), sorry, though, no food available. This is a large single room public house very much designed on a nautical theme, probably influenced by being close to the old Royal Marines barracks. Up to 8 real ales and a cider are served from handpump, including the likes of one of my favourites, Hop Back Summer Lightning, and a notably large number of bottle conditioned beers are also available and recommended to you to try.
                      The Florence Arms                                   The Sally Port Inn                                      Still & West    
The Florence Arms, 18 - 20 Florence Rd, PO5 2NE (023 92875700) is the next offering, not far from the seafront at Southsea. There are 2 bar-rooms and a restaurant area, with fine home cooked food available between 12.00 and 2pm and 6pm to 8.30pm on weekdays, but no food on Saturdays, though, on Sundays, lunch is served from 12.00 to 3pm. The Florence sells 5 or 6 real ales and up to 12 different ciders and perries, so is a bonus for lovers of cider too. 
The Sally Port Inn, High Street, PO1 2ZU is opposite the cathedral in Old Portsmouth (023 9282 1860) and is a 16th century inn, Grade II listed building. The central staircase was built from a ship's spar and the walls are timber clad, whilst leather chairs are provided to relax in. Ales include Fullers London Pride, Gale's HSB, Young's Special and Shepherd Neame beers, ie being served all London's regional beers in one house. There is a buffet menu and an a la carte menu lunch and evenings to 9.30pm Mon to Sat, and 12.00 to 8pm Sundays. The Sally Port has bed and breakfast rooms, and is well known for excellent breakfasts.
Our final recommendation is also in Old Portsmouth, Still and West, Bath Square PO1 2JL (023 9282 1567) which was built around 1700. This is a Gale's house, so sells Gale's as well as Fuller's ales, and has a varied customer base. Whilst the Sally Port is known for its breakfasts, the Still is famous for its fish and chips, though it does have a 'gastro' style menu, sourced locally, as well. There are restaurant areas on two levels, plus food is served in the bar downstairs, between 12.00 and 3pm, and in the Summer until 9pm Monday to Thursday, 9.30pm Fridays and Saturdays, and from 12.00 to 8pm on Sundays.