Lincoln Cathedral                                                                          Victoria Inn                                                     The Strugglers Inn 
If you go to Lincoln, you really do have to go up the hill from the station, a steep hill called Steep Hill, with historic buildings all around, and visit the cathedral, if not go inside, it has one of the most impressive frontages of buildings in the UK!  You may want to visit the castle too, but then, you may actually be here for the historic and cultural heritage.  Whilst nearby, you can also enjoy the hospitality of a couple of excellent pubs; you'll find that many pubs in Lincoln are open at 11.00, some even earlier, and not just Weatherspoons, so plenty of time to have a good day. 
The first suggestion, and on my last visit we had an early lunch here, is the Victoria Inn, 6 Union Road, LN1 3BJ (01522 536 048), just below the castle.  This is a Batemans' house that, in addition to their own XB, sells Castle Rock Harvest Pale and Timothy Taylor's Landlord as regulars, and guest ales too, up to 7 beers in total, as well as 'real' cider from the cellar!  The Victoria has a long thin main room, a small 'lounge' area, with a further 4 handpumps, and outside seating too.  It has a comfortable 'lived in' feel about it, some very interesting artefacts, a true pub, and good value food to boot, sandwiches with chips on the side, soup and bread roll, ploughman's lunch, the usual pub fare, yes, but good quality. 
Walking around the castle, you come upon The Strugglers Inn, 83 Westgate, LN1 3BG (01522 535 023), this has a long main room and a smaller 'snug', but we sat out the back in the garden, which was a warm and comfortable place to be on my last visit.  The Strugglers has up to 6 real ales, including Greene King Abbot Ale and Rudgate Ruby Mild, among the regulars, plus guests, and I had a couple of pints of Salamander's Golden Salamander, which went down a treat.  Lunch is served here too, reportedly very good value too, by the Good Beer Guide, but we had already eaten.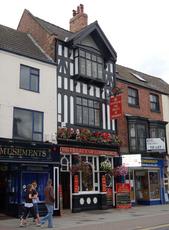 Jolly Brewer                                                                        The Green Dragon                                                   Golden Eagle      
As you come back down from the hill, and walk round to the east and south, you reach The Jolly Brewer, 27 Broadgate, LN2 5AQ (01522 528 583), a definite 'rock' pub with regular live music.  The exterior doesn't look too inviting, but don't let that put you off, as the bar staff are warm and friendly.  The interior is 'green', with lighting helping to augment an art deco feel to the main room, look at my photo and you'll know what I mean.  There is work adorning the walls by local artists, so, should you fancy purchasing an original, here you are, and there is an outside courtyard.  The Jolly Brewer sells Westons' Perry and a cider, Broadoak Moonshine when I was there last, and up to 6 real ales, with Young's 'ordinary' Bitter and Courage Directors the regulars, and often 2 locals among the guests, I enjoyed Leila Cottage Lincolnshire Life and Grafters' Over the Moon!  
Further south and getting closer to the station again is the Green Dragon, Magpie Square, Broadgate LN2 5BH (01522 567155), a 16th century timber framed inn, with 10-12 regularly changing real ales on sale throughout the pub.  Henry VIII dined here a few years ago as a guest of the, then incumbent, Duke of Suffolk, so you're drinking, and perhaps eating (the Good Beer Guide suggests "quality food"), in the company of very famous ghosts.  We sat outside again, enjoying our drinks sitting by a very peaceful side road and the canal (you can just see the back of my brother in the photograph).
If you are here to watch football at Sincil Bank Stadium, you need to go back past the railway station to reach the ground.  However, you may just be visiting Lincoln for sports sake, and only have time to visit the one pub, so, the recommendation is on the way to the ground, and is the Tynemill owned Golden Eagle, 21 High Street, LN5 8BD (01522 521 058).  This is away fan friendly and, as you would expect from a Tynemill pub, sells among its regulars Harvest Pale and Preservation Fine Ale, and Batemans XB, plus up to 6 guest ales. 
As you would expect from its location, this is very popular with football fans and has even won awards from supporters of visiting teams, in addition to having strong local support.  The Golden Eagle is a brick built, cream painted, coaching house, dating back to 1726, with 2 wood-paneled rooms served by a central bar, and also has a function room and beer garden.