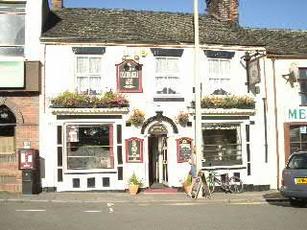 The White Star                                                          Staff of Life                                                     The Coachmakers Arms 
When I've been to Stoke for football purposes, I usually drink in Burslem, and book a cab to the ground, however, there are always going to be good pubs to visit in any large town or city.  The usually recommended pubs to visit are in a couple of separate areas.    
In the centre of town, near to the station, are 3 to visit.  The first is The White Star, 63 Kingsway, ST4 1JB (01782 848732), a joint venture between Titanic Brewery and Everards, consequently, selling Titanic's Steerage, Anchor, Iceberg and White Star, Everards' Tiger, and up to 5 guest ales.  There is also a selection of continental bottled lagers and good value food, featuring local pies from George's pies of Stone, is available until 2.30pm.  There is an open bright and airy feel about the pub, with bare floorboards, raised tables and seats opposite the bar, and two other seating areas away from the bar.  A small room with a separate bar is available for hire upstairs. 
Also, having been saved from being a 'boys pub' in 2010, is the Staff of Life, 13 Hill Street, ST1 1NL (01782 768 967), which has a classic pub frontage and beautiful Minton flooring in the passage.  This has returned to being run as a traditional pub selling 3 ales, Bass and Marstons Pedigree as regulars, and a guest ale, and is worth supporting for their vigilance. 
In addition, should you wish to search out a Weatherspoons, there is one nearby that CAMRA themselves recommend, The Wheatsheaf, 84-92 Church Street, ST4 1BU (01782 747462), so, not only can you get the usual varied supply of good value beer, it's also well kept.

 

Of course, there is the expected menu and food all day; it does what it says on the tin. 

 
The fourth suggestion, on the other side of the railway station and situated near to Hanley bus station, and under threat due to planned 'development' of the area, is the Coachmakers Arms,  65 Lichfield Street, ST1 3EA (01782 262 158).  This has been a regular CAMRA award winning pub that sells up to 6 real ales, including their regular Bass and usually a mild and a stout are on the bar.
Finally, in the 'Piccadilly' area, near to the Regent Theatre, is The Unicorn Inn, 40 Piccadilly, ST1 1EG (01782 281 809), a small one-roomed pub that sells Fullers London Pride plus 2 regularly changing guest ales, and Westons Old Rosie cider.