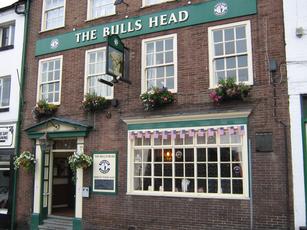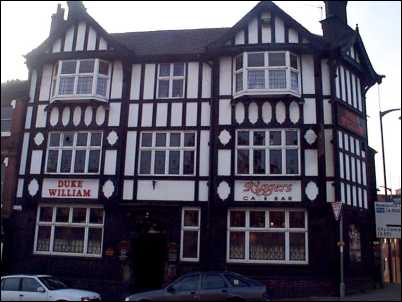 The Bulls Head                                                            Duke William                                                            The Leopard   
The Bulls Head, 14 St Johns Square, Burslem, Stoke on Trent, ST6 3AJ (01782 834153) is owned by the Titanic Brewery, being, in effect, the brewery tap,  regular ales include their own Titanic Steerage, Anchor, Iceberg and White Star, Everards' Tiger, and guest ales. Titanic brew a great variety of different styles of beer, from pale and hoppy bitters to dark stouts; visit their website for more information about their beers, events and pubs. There is a great area to sit out back of the Bulls Head, a central bar in the centre of separate rooms, an open fire, great beer and very good value sandwiches or bread rolls.
This is an easy place to get along with the locals and an ideal place to visit before attending Port Vale matches, in particular, or Stoke City, for that matter, but you have to catch a taxi from here to have a comfortable couple of hours drinking and being convivial before setting off to Stoke, precisely what we did on our last visit to the Britannia Stadium, though we caught the bus from Stoke railway station to Burslem in the morning. 
Nearby is the recently refurbished the Duke William, 2 St Johns Square, ST6 3AJ (01782 814809), a free house that sells real ales from 8 handpumps.  The Duke William has a history going back to the 18th century and records show, as early as 1818, that the licensee was a Hannah Sheldon.  The pub fell by the wayside recently, until the current owners reopened the pub in April 2010.  The ground floor has a large bar spanning two main rooms and another large public bar. The first floor is now a 48 seat restaurant, and upstairs is a 2nd floor meeting room and conference centre.
The cask conditioned beers, including regulars Fullers London Pride and the excellent Thornbridge Kipling and 6 rotating guest ales, are complimented by the provision of a range of specialist international beers, including Belgian bottled beers, such as Chimay red and blue labels, and a comprehensive wine list is available in the first floor restaurant.  Food is provided lunch time and evening, the menu can be viewed on the pub's website, and includes specialised meals and more traditional pub fare, such as an 'all day' breakfast.
To add to the 2 excellent pubs in St Johns Square are 2 hostelries worth visiting in the nearby Market Place.  The Leopard, 21, Market Place, ST6 3AA (01782 819644) is a late 18th Century public house where history was made in 1765 with the first meeting between Josiah Wedgwood, Thomas Bentley, Erasmus Darwin and the engineer James Brindley, which culminated in the Trent and Mersey Canal. The Leopard also features in a number of Arnold Bennett's Five Towns' novels, where it is known as the Tiger.
The Leopard is a 3 roomed pub, with a separate restaurant area and a large function room.  The walls are adorned with traditional pictures, paintings, memorabilia and beer mats.  I haven't actually been here, but the loos are meant to be worth perusing for their original tiling and stained glass windows. There are between 6 and 8 real ales available, regularly changing and usually from micro and local breweries, also cheap bar snacks, such as pork pies and pickled eggs, in addition to the usual crisps and nuts, and, of course, more filling meals are served up too.    
CAMRA's Good Beer Guide also recommends the Post Office Vaults, 3 Market Place, ST6 3AA (01782 811027, a small cosy one-roomed pub, with a heated area outside at the back, both areas with televisions.  4 regular ales are on sale, Thornbridge Jaipur, Greene King Abbot Ale, and Oakham's Inferno and Bishops Farewell, plus guest beers.