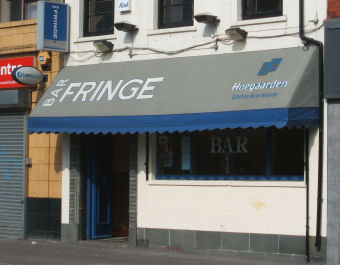 Mr Thomas's Chop House                                                 Marble Arch                                                               Bar Fringe 
On my last visit to a match in Manchester, we first visited Mr. Thomas's Chop House, 52 Cross Street. M2 7AR (0161 832 2245) on the recommendation of, and together with, my brother. Mr Thomas's is a well-preserved Victorian public house, and a pleasure to visit. The walls are adorned with a commissioned photographic archive, and the walls seem to go on forever, down to a host of dining folk further down the pub. The pub has a decent reputation for food and ales, and I was pleased to visit, and happy to recommend Mr Thomas's to others. 
The second place we visited was the Marble Arch, 73 Rochdale Road, M4 4HY (0161 819 2694), my favourite pub of the day, but then, it's always a great place to visit. The food is good, the beer (particularly some of their own ales) is good, it has an excellent jukebox, with a great variety of music which confused one of my mates, who thought London's Burning was Babylon's Burning, but he has learnt now! I always enjoy a chat with the brewers too (the original small brewery is on-site, and the larger new brewery is less than 10 minutes walk away), who are always ready to discuss their beers, hops used, etc. I enjoy this place more with every visit.  
The Marble Arch was built in 1888, taken over by the current incumbents in 1997, and has tiles everywhere, on the walls, ceiling, floor, bar and on the outside! The floor is on a slope, and watching other customers' possessions roll down their table can be quite amusing, just be careful with your own drinks, plates, whatever. The tiled ceiling was discovered by chance when the plaster on it was dislodged during a wet spell some years ago, and became a great discovery. In addition to the great feel of the architecture and provisions, you always get a friendly welcome, we all loved the experience on the day, as I always do when I visit.  
Not far away, is Bar Fringe, 8 Swan Street, M4 5JN (0161 835 3815), a bar that is a tribute to continental bars, particularly Belgian. It has a great selection of continental beers on draught, and you will find Belgian beers here that are very rare finds in the UK, and 5 real ales on tap. Another friendly house with food served from 12.00 to 4pm.  From here, we went to an art gallery at the town hall, well worth the visit if you have the time (our's was an evening match). 
Our last hostelry, OK we travelled around a bit, was The Lass O' Gowrie, 36 Charles Street, M1 7DB (0161 273 6932), just around the corner from the BBC. There are usually 9 to 10 real ales on, and a good menu to accompany the beer! The chef uses fresh locally sourced ingredients, wherever possible, and the home-baked pies served are a delight. This is a pleasant Victorian building with numerous nooks and crannies off the main large bar, wooden floorboards and gas lighting and there are big screens if you want to watch the goals you just saw at the match, on your return here afterwards.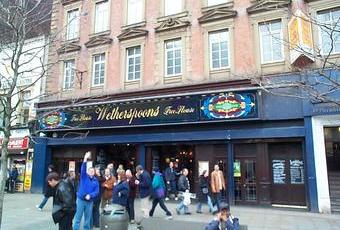 Lass O' Gowrie                                      The Manchester & County                                          Piccadilly Tavern  
Also, recommended to me by my friend Phil, a Manchester supporter, though I shan't say which club, are the Manchester and County, 49 Piccadilly M1 2AP (0161 236 9206), the Weatherspoons in Piccadilly, where you'll get the usual good value beers and food, as expected.  He also suggested the Piccadilly Tavern, 60 - 75 Piccadilly, M1 2BS (0161 237 0201), similar in style to a Weatherspoons, with good value food and beers, but with a more 'cheerful' aspect, though only selling 3 ales on draught according to my last report, eg Timothy Taylor's Golden Best.