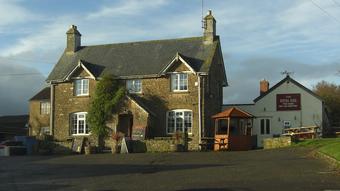 Masons Arms                                                           The Arrow                                                               The Royal Oak  
I chatted to a few Yeovil fans in Sheffield a short while ago, who advised me of the first 2 of the following places to visit in the Yeovil area.

 

I have since met another couple from Somerset, who suggested another pub close to Yeovil known for keeping a good pint of real ale. The first group expressed their jealousy of Sheffield and its glut of real ale establishments, micro-breweries and genuine free houses, which Yeovil lacks, and said the best pub in the Yeovil area is actually a couple of miles to the west of Yeovil just off the A3088.

 

Many thanks to all my new friends for their advice.   
If driving to Yeovil it would be best to navigate around Yeovil, or via Odcombe, depending on the direction you're coming from. If arriving by train, catch a taxi from the station out to the
Masons Arms
, 41 Lower Odcombe, Yeovil BA22 8TX (01935 862591), which has its own brewery, re-opened in 2005 under the current owners. There are 3 ales regularly available, Odcombe No.1 (4%), Spring (4.1%) and Roly Poly (4.2%), and they also brew 2 seasonal ales, Winters Tail (4.3%) and Half Jack (3.8%). The Masons also sells an extensive range of bottled beers and wines.  
My friends recommended eating at the 'very friendly' Masons Arms, and local recommendations are usually well worth following; having had a look at the menu, I can confirm it includes some very interesting looking meals, including bass and venison dishes, and beer battered fish and chips. They also offer a 'blackboard' menu with traditional bar meals, such as ham, egg and chips or sausage and mash, in addition to their a la carte menu.  
The only pub recommended to me near to the ground is
The Arrow
, The Forum, Abbey Manor Park BA21 3TL (01935 476972), a rather large and modern Marston's pub, but one that sells the Marston's' acquired Ringwood Brewery ales as well as Pedigree, so not too restrictive a choice of ales. The Arrow also sells the usual fare from Marston's, which is usually good value, if not exciting, but is family friendly and offers food children do eat. There is plenty of seating and a large screen to watch sports on. 
My more recent advisors suggested another pub outside of Yeovil, the Royal Oak Inn, Moor Lane, Hardington Moor, BA22 9NW (0193586 2354).

 

The Royal Oak, locally called "Sonny's", apparently the name of a previous landlord, is a 'traditional' village pub, originally a farmhouse.

 

At least four regularly changing real ales are on offer, you're likely to find at least one from a local microbrewer, eg Cheddar Gorge Best from Cheddar Ales, real cider, and home cooked food is served Tues-Saturday 12-2pm and 7-10pm and on Sunday 12-2pm and 7-9pm.

 

Their skittle alley has a unique mural painted on its walls that includes nearly 100 of the regular clientele in cartoon form, and there are regular 'biker' meetings here too, so it may be worth checking the dates if you want a quieter time there. 
Although not recommended to me, there are another 2 pubs in CAMRA's 2011 Good Beer Guide, ie the Great Western, 47 Camborne Grove BA21 5DG (01935 431051), near Yeovil Pen Mill railway station, which is reported to sell Butcombe Bitter, Wadworth 6X and seasonal beers, and good food too. The second GBG pub is the Quicksilver Mail, 168 Hendford Hill BA20 2RG (01935 424721), which is also reported to sell food, and Adnams Broadside, Butcombe Bitter and St Austell Tribute.

 
Finally, Duncan Adams "A Fan's Guide to Football Grounds" suggests the Bell Inn,

207 Preston Road BA20 2EW

(01935 474 077) a Greene King pub, selling food as well as Greene King ales. I have seen mixed reviews of this pub, but, like The Arrow, it is about a 15 minute walk to the ground from the Bell, you make your choice.