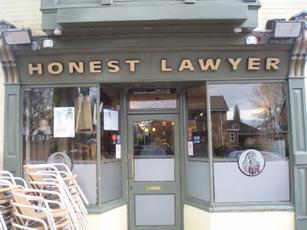 Honest Lawyer                                       More recent frontage                                         The Blue Bell Inn     
To start off in Scunthorpe, or if you only want to visit one place, you have to go to the Honest Lawyer, 70 Oswald Rd, DN15 7PG (01724 849906), with The Gallows Restaurant above.  The Honest Lawyer sounds like an oxymoron, but a superb public house, only 5 minutes walk from the railway station.  There are always a good choice of real ales, the bar food is very good value, and their home-made pies are excellent!  I haven't visited the restaurant upstairs, but have only read good revues of the quality of the food on offer.  The staff have always been friendly, and the landlord is a convivial character, regularly sitting at the end of the bar nearest to the door, ready to chat, and happy to call a taxi for you when you depart.   
The Blue Bell Inn, 1-7 Oswald Road, DN15 7PU (01724 863921), the local Weatherspoons, is only just down the road, and also receives good reviews.  This pub is named after the old Blue Bell, which was a coaching inn that stood in the nearby High Street until the redevelopment of the town centre.  As with all Weatherspoons, you know what's on the menu, and the beer is good value, but, often, there are insufficient barstaff to serve you.